It's 2017, and Facebook is where it's at.
Why do I say this?
Last year Facebook showed us how powerful working with Messenger can be for your business. Facebook released bots, payment integrations, app integrations, and so much more. Some were hype gimmicks but others were here to stay - this article covers that.
Before jumping into what Facebook Messenger marketing looks like - let's understand the benefits:
Talk to customers even after they leave your site
View customer identities instantly
Authentic customer feedback in the best way
Your customer's trust and love Messenger
Messenger gets a higher response rate than email
Facebook will help you get customers organically too!
So in a lot of ways, 2017 marks a turning point for many businesses.
Just think about it.
People already trust Facebook Messenger, so inherently they end up having more trust in your business too. All you have to do is be there for your customers and respond.
So let's get to work.
Let's break-down this opportunity and understand it a little better.
Focusing On Messenger Gets You Better Results
Email is good, but Messenger is better.
Marketing effectiveness is driven by two things, the # of people that:
Open rates
Engagements(click URL or provide info)
It's no surprise that messenger is almost 10X more effective! From over 100,000 marketing email samples, Messenger wins on both open rate and click-through rate.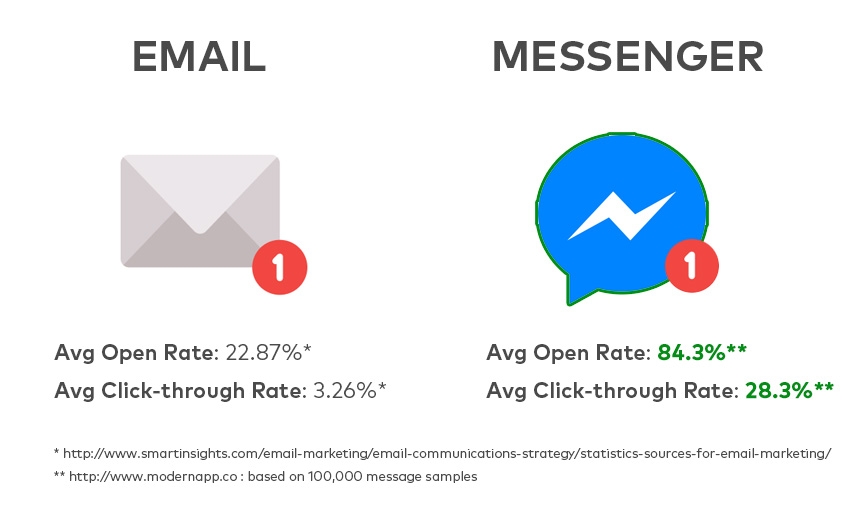 Here's the point.
You can get 4x more views to your messages, and almost 10x more click throughs!
It's a no-brainer.
Respond Within 5 Minutes
It's easier than you think.
Messenger is all about speed.
Make use of bot auto replies and auto follow-ups to make sure that your customers are tailored to immediately. You have their interest and full attention, use it to your advantage!
You HAVE to be there for your customers and answer promptly on their inquiries. Even if it's to let them know that you'll get back to them shortly or that nobody is available to take their request. Every message on Messenger matters and think of each person as a customer and a LEAD. The longer your delay, the higher probability that this customer will lose interest and move onto something else.
Address Your Customers By Name
People love hearing their name.
Think about this for a moment.
Your customers have personalities, so addressing them by name, makes it as personal as possible. You have information about their education, work, photos, and even videos. Get a feeling for their personality and try to relate!
They're people. The more human your response, the more likely they'll be to review you positively and have higher ROI. Highlight a pain point that you may notice about this new customer and help them solve it. You have an open channel and their FULL attention. Relate to their personalities so you can help them in the most personal way, Messenger is VERY MUCH a one-to-one service.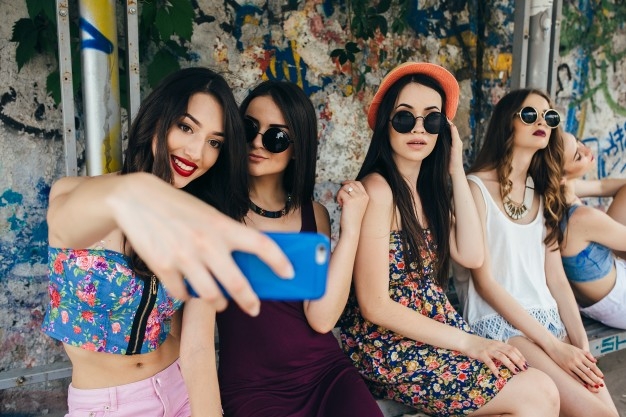 Finish Off Where The Conversation Started
Your customers wanted something from you.
So what?
It turns out that keeping track of customer wants and differentiating between questions, information, requests, and problems can be critical to helping you achieve the best workflow.
Understanding context and aligning past, present, and future with the profile is how you can turn a customer that likes you to one that loves you! Always identify the want and note it to keep track of what your customers want to achieve each time.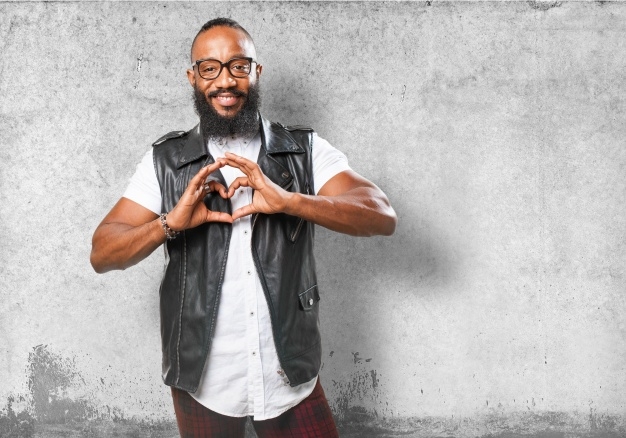 Follow-Up With Everyone!
It takes an average of 5 follow-ups to close a sale but 70% of people give up after the first try!
This is bad for business, and most people don't even realize it. It takes us time Did you know that most people who send you a message on Messenger are a lead. Leverage that and make sure to follow-up to identify if you've answered all their questions. Maybe they spotted a competition - always be at the top of their minds.
SetupYourself Up For Success
Setting up for success in such an evolving market means 2 things:
Being aware of all the latest trends (payments, ad offers, etc)
Making sure your account has all the latest setups (greeting, menu, auto-response, etc)
The small details matter.
They're critical to helping you succeed with this Messenger opportunity. They give your business an extra small touch that customers expect to see from businesses they engage with.At Modern we offer a widget on your dashboard that is constantly updated to help you achieve the most from your initiative.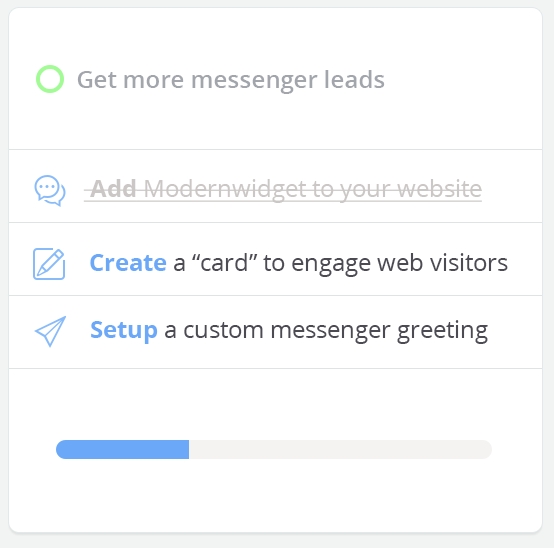 Gather Customer Feedback
Businesses thrive on customer feedback and Messenger offers a perfect and personal way for us to ask our customers how they really feel about our business and if there is anything that we can do to offer them a better experience. It's proven that one of the best ways to attract new business is referrals. So go ahead! Ask your customers how they feel about the end-to-end experience that your brand offers.
Don't Miss The Opportunity!
It's really that simple.
When we set out to build Modern we got really excited about the idea that businesses have access to understanding their audience and customers in a way they have never been able to before. Our only goal is to help you maximize the Messenger opportunity. Modern is FREE to get started and try and whether you're a large business or small we're always around to help.
Join Modern today to start maximizing the Messenger opportunity.